With everything that's been happening with COVID, quarantine, and everything in between, it's still absolutely mind boggling to me that July is almost over. How can it be that 5 months have passed since shelter in place started in Michigan? It doesn't seem real, but alas…
Given that we are halfway through the year, I figured it would be a great time to talk about my favorite books I have read so far. Admittedly, I thought that the amount of reading I would be getting done would be MASSIVE with all of the extra time I have had due to working from home and being STUCK at home all day everyday, but my mental health had other plans, and that's okay.
So far this year, I have read 24 books. To many avid bibliophiles, this may not seem like a lot, but it's felt like the right amount and right pace for me with everything that's been going on in life. Of those 24 books, I have read TEN BOOKS that I have rated 5 stars, five books I have rated 4 stars, 4 books I have rated 3 stars, and 5 books I have rated either 2 or 1 stars. That said, it's been a phenomenal year of reading so far!
Let's dive in to my favorites, in order of the date I read them! I have also included links via Bookshop which will allow you to order from an indie bookstore!
Five-Star Books I Have Read in 2020
Mistborn by Brandon Sanderson
Mistborn was my first foray into Sanderson's work and to say I was blown away is a gross understatement. If you are looking for a fantasy novel that is engaging but NOT overly complicated, I highly recommend checking out Mistborn!
Blackwood by Michael Farris Smith
The cool thing about this book is that, despite it being horror, it is incredibly atmospheric and reads like poetry. If you don't like vaguely ambiguous endings, this may not be the right pick for you, but if you do, this may be a great, fast read for you to pick up!
My Year of Rest and Relaxation by Ottessa Moshfegh
I am not 100% sure what it was that inspired me to pick up this book, but I am so glad that I did. As someone who has lived with mental illness for over a decade now, this book connected with me in a way that I wasn't expecting. Despite it being fictional, the main character and I had a lot of similarities. As a warning, this book is very dark and can be triggering, so please be sure to approach with caution after researching the themes.
The Duchess Deal by Tessa Dare
The wonderful world of romance novels was cracked wide open for me this year with help from the beautiful writing on Tessa Dare. I am openly guilty of the fact I used to think that romance just wasn't for me. I thought it lacked the depth I usually need in novels, but I was so very wrong, especially when it comes to Tessa Dare. These books are funny, steamy, and full of royal drama! I have since read two more books by Dare, both of which I enjoyed very much!
Normal People by Sally Rooney
I am sure that I am not the first, nor will I be the last, person to tell you how amazing this book is. The show came out earlier this year on Hulu, prompting me to finally prioritize it after I had housed it on my shelf for years. This book is not for everyone, but it was certainly for me!
The Girl with the Louding Voice by Abi Daré
You know those books that stick with you in such a strong way that, months after reading them, you can't stop thinking about them? That was this book for me. The Girl with the Louding Voice was a true gift for me to read. I went into it not knowing much about it and I am so glad that I did so. This book is meant to be experienced mindfully, slowly, and with no preconceived notions. I highly HIGHLY recommend this book and I can't say enough how grateful I am that I picked it up this year. It hit my heart in a way that I wasn't even remotely prepared for and the main character will always be a source of inspiration for me.
The Poppy War by R.F. Kuang
Apparently "large fantasy books" are the theme of my 2020 reading life. The Poppy War is such a unique and phenomenal fantasy story and I am very much looking forward to reading the sequel here within the next month or so! I will warn you that this book has some deeply disturbing scenes depicting many forms of violence, so please make sure to research triggers before reading this book if you feel there are themes that may be upsetting for you to read.
The Nickel Boys by Colson Whitehead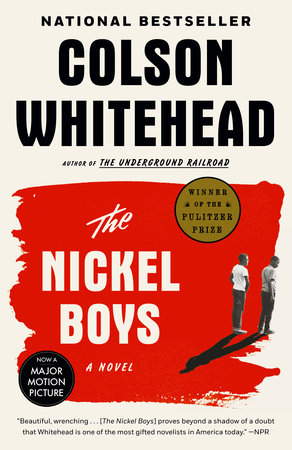 This book… wow. I have a more thorough review in the "reviews" section highlight on my instagram, but just consider this your sign that you need to read this book. It is NOT an easy read, but it is important and beautifully written. This was my first book by Whitehead and I immediately went out and bought The Underground Railroad after finishing. I am hoping to read it later this year!
The Bright Lands by John Fram
This book is a spooky, supernatural, queer thrill ride of a novel. Sold? Cool because that's all it took for me too. This book is UNDOUBTEDLY one of the hottest books of the summer. I have seen SO many people RAVE about this book, and it's for a good reason: It flippin rocks. If you're not super into scary horror, don't worry, this book is a really good balance of horror and thriller and won't make you pee your pants with fear. However, don't get comfortable, you will be on the edge of your seat the entire time trying to figure out wtf is goin on!
Destiny's Embrace by Beverly Jenkins
Remember how I mentioned that I was skipping my happy self into the romance genre? I am so glad I did because Beverly Jenkins made it to one of the top spots for my favorite reads of 2020! Interesting fact: Beverly Jenkins and I are both Michiganders and we went to the same college (different years, though)! That may have swayed me into loving her before I even picked up the novel, but her beautiful writing style really sealed the deal. I LOVED this book. The romance was hot, the characters were so believable and lovable, and I really connected with the female main character based on her aspirations and past experiences at home with her family members. I also really loved and appreciated the educational pieces Jenkins wove into the storyline. For example, I learned that California was actually named after a fictional Black queen named Califia! How cool is that?? I will definitely be continuing on with the series!
Well, that's a wrap on my five-star reads so far for 2020! Here's to hoping for even more in the months to come.
What have been some of your five-star reads this year?